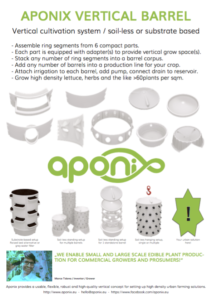 The aponix vertical barrel system provides building blocks to set up various solutions for vertical plant production. It is ideal for urban farming operations where flexible verticality and at the same time professional application is critical. It can be assembled into soil-less large operations with central fertilizer reservoirs and multiple chained barrel units, single standalone soil-less columns but also into a soil or medium based raised bed alternatives or even a mix as terra-ponic solutions or water filters for smart sustainable urban areas.
Use cases:
---
Properties of the aponix vertical barrel components
Easy to assemble, consisting of a few simple and repeatable parts like a) our 1/6 parts of a full ring segment of the barrel providing none, one or two 2-inch/5cm net pot plant adapters, b) the top choosing the type of irrigation c) a bottom for example a standing version and a choice on how to handle the liquid.
You assemble a full ring segment or level using 6 of the 1/6 parts providing 0-12 single standard 2″/5cm net pot grows spaces / cup holders each using 15cm of vertical space. You can configure for your plant distance and even plant shape using our grow space covers to cover unused spaces.
Ring segments can be stacked as high as you have vertical space available adding grow spaces for each level.
This translates your cultivation area to the outside surface of all your vertical barrels in operation.
Parts are made from durable, high quality and food-grade plastics (PVC-U and ASA).
Easy to clean using a standard power washer or steam cleaner after each growing cycle: Harvest, unstack, power wash, re-stack, replant. You can also disassemble back into single pieces.
Easy to ship due to small, well stackable compact parts.
Irrigation is done using either your own or our selection of a pressure spray nozzles (drip or aeroponic), It can be used with any liquid nutrient solution being mineral fertilizer (hydroponics) or organic fertilizer (aquaponics) or a terraponic hybrid.
Hanging and standing, chained or single versions possible.
Standard 2″ net pots as grow spaces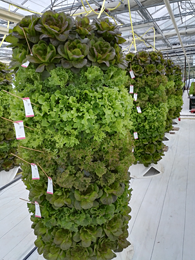 As grow space in the soil-less parts we are only using 2"/5cm net pot cup holders. Alternatively you can use our reusable plug pots that also provide an optional metal plant trellis holder. Using the net pots you are free to use the growing medium of your choice to finally insert your strong young plants / seedlings into the vertical barrels. You could use simple filter foam, rockwool cubes, rockwool shreds or any other medium that you are confident with. Like with other NFT/DWC system you need strong seedlings to be transferred into your vertical barrel system.
The vertical barrel is suitable to grow small vegetable crops, herbs, lettuce and strawberries. Depending on the ring segment parts you combine you can configure the ideal plant spacing for your crop also using our plug pots with plant trellis.
Irrigation: Aeroponic spraying or vertical drip with or without pressure line.
The idea behind the barrel concept is, that it provides a flexible irrigation corpus for grow spaces in a 3-dimensional room. We have tested various irrigation options that can be delivered – spray nozzle, inverted sprinkler, our water buffer part or the Netafim-aponix adapter. But you could well integrate and experiment with your own irrigation solution.
According to the atmospheric conditions, the chosen irrigation intervals should ensure, that the plant roots and the medium used never dry and get sufficient nutrients during the day and balance nutrient application with too much liquid. Flow rates work as much as you would apply it on NFT channels. Example: 5-15min spraying, 45-55min pause would be sufficient during the day, 2-3 cycles during night time. You should avoid a permanently running pump. A flow rate of <100l/h per barrel unit during irrigation is ideal.
Some examples on how the vertical barrel component can be integrated into a larger setup context.