Aponix understands its components as infrastructure parts (product overview) that need to be integrated into a greater specialized and more targeted context. Product partners are required to create their own unique solutions using aponix pieces adding other external pieces and services and market them actively and independently under their own brand/product name. This is comparable to what is known as a 'White Label Scheme'. The degree of uniqueness of their full solution or integration and the location they are offering it represents their protection agains other product partners' solutions and the bare components from aponix.
This is the goal:
a) Aponix-DE is and stays the manufacturer – home of bare piece – of the the aponix components. We can not serve all individual users in all territories across all applications at the same time. That is what we like to outsource to our product and integration partners.
b) The product partner is using/integrating aponix pieces engineering, marketing and independently selling a greater unique solution and/or build integration expertise and skills on his own account for and to his own customers. There is a simple product partner term sheet that is the binding document with all rules for this type of cooperation. It needs to be signed by every product and integration partner before getting active in marketing and selling aponix components based solutions. The goal is that the product partner is providing a distinct and complete solution and/or service integrating aponix components to their own customers, who perceive the product partner as expert regarding any questions, extensions and issues of their solution/product.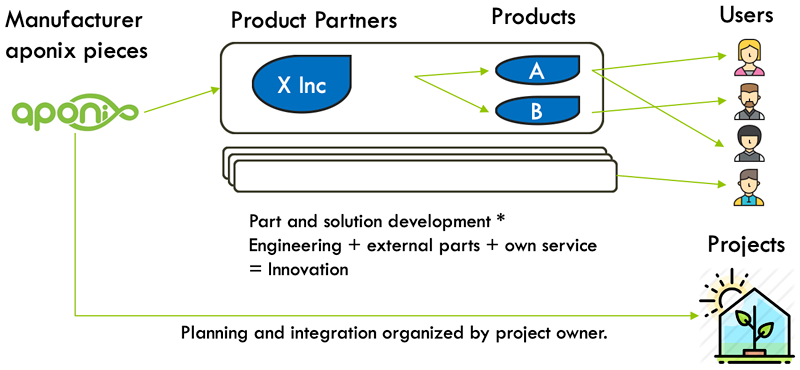 Ideal partners are already established players in the horticulture field that are serving an existing customer base setting up soilless and substrate based farming facilities or supplying greenhouse equipment/consulting and are open to add novel and interesting components complementing their own range of products for a territory/territories they already operate in successfully. This could also be a retail business that likes to create one or more packages from our components that might be interesting for their clients.
We believe, that such product partners will be able to spread the aponix solutions, their broad possibilities for applications and their own expertise faster including local services, education or seedling supply subscriptions to special target groups like schools, hospitals, urban office space, communities, supermarkets etc.
---

aponix is looking for Product + Integration Partners
---
Product partners can and should extend the system, e.g. integrate their own irrigation click-system, add a nutrient reservoir and automation, add horticulture consumables, add custom light kit, provide their own manual/videos or introduce a novel kind of utilization or application of the pieces like setting it up as filtration system or the like or mix it with other even competitive equipment to provide the best individual solutions for their specific target group to enable them to grow hyperlocal edible plants. Possibilities are endless and always require experience and own solid engineering.
All existing parts can be found in our order area or in our pdf catalogue to give you an idea of the versatility of the vertical barrel concept.
There are parts missing to integrate your solution? Let's talk! One idea of the product partner strategy is to help with the design of missing pieces, that could be interesting also for other product partners. Such a new part would be designed as your individual missing piece, with aponix taking care of CAD and production tool so you (and all other product partners) can order these parts from our catalogue just the same as all the other parts in the future.
---
Please contact us if you are interested!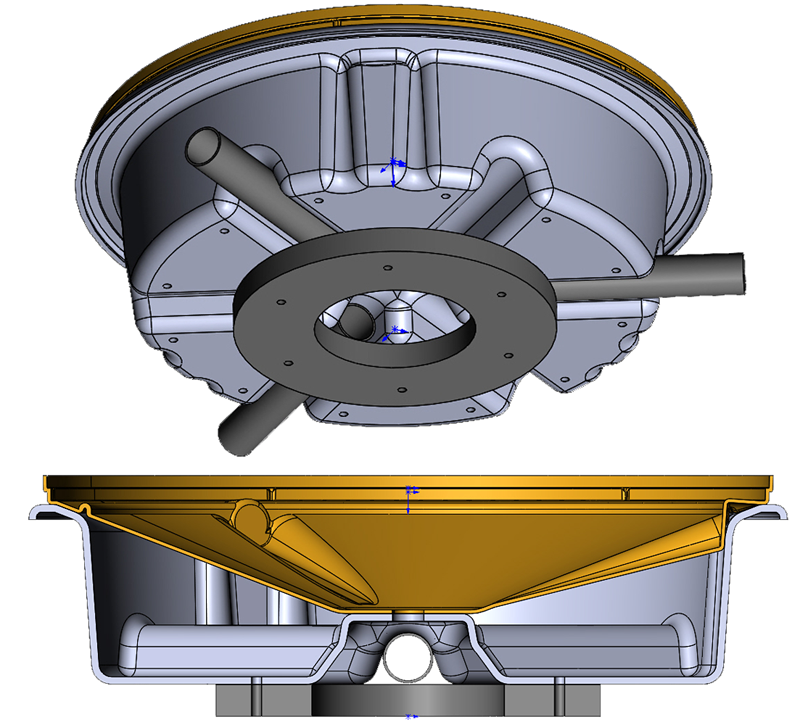 One example of inter-partner engineering by aponix – the lid-base.