[Link to the original newsletter]
Another exciting year has passed. This is the summary of what aponix has been working on between 2019-08 and 2020-07:
Changed the strategy from looking for resellers/distributors to product partners
Product partner online in the US with his products / ECOSPROUT5 + 10
New parts:

a.) One-net pot ring segment piece
b.) The lid-base (created through a product partner co-operation)
c.) Substrate based City XL Barrel
d.) Netafim Micronozzle Adapter

Testing and planning for a more advanced 'Version 3'
Increased capacity and 'projects'
DLG Award
Looking for co-exhibiting at larger horticulture tradeshows
Shout-out to our existing users: Please add comments/images on your experience with our components
What is an aponix vertical barrel / 3D-NFT
---
1. Changed the strategy from looking for resellers/distributors to product partners
Aponix has tried to find and bind 'distributors' for >1 year now and most of the times it was about 'margin', cheapest possible pieces, unproductive competition on prices and most of the times this was also combined with insufficient hydro / horticulture experience on the reseller side and missing of marketing/service creativity. Post some links or make a quick call, drop ship stuff you are not particularly interested in and make a quick buck. No, thank you. That was not what we were aiming for from the beginning and certainly not our intended target audience.

We would rather have seen clever solutions from the perspective of the pragmatic gardener's mindset mixed with urban guerilla/activist type of characters who grow food in new ways, in new spots, are organizing distribution in new formats having profound impact on social aspects, promote horticulture education as a basic skill, integrate into the smart cities making them more resilient and sustainable, provide healthy and fresh plant based food, look delicious and make gardening sexy again at the same time. In other words – it was about time to change the strategy and attract these types of partners / customers / like-minded urban warriors / friends.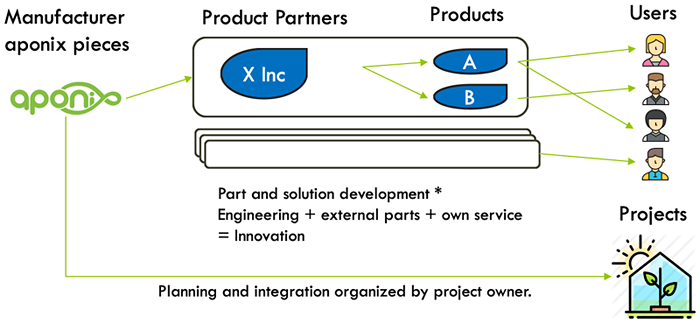 It seems that we made a promising step in that direction by changing our boring distribution strategy into a more interactive product partner strategy. The product partners we are currently working with are all versed engineers eager and energetic to design the most suitable solutions for their target clients. Aponix pieces are just the beginning to start engineering. This results in many more real world solutions made possible by the mutual discourse around the existing aponix components and ideas discussed. We even already created new aponix pieces through these virtuous cycles and shared many ideas, energy, knowledge and inspiration that way and will continue to do so.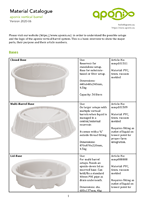 Usually interested product partners start with a testing kit so they have the parts physically to play with and get a better impression on how it presents and performs and figure out how they can integrate it into a real useful product partner solution – like a cannabis chamber, a complete end-user version or a supermarket shelf solution for living plants. So we can start brainstorming about a potential larger solution the product partner later sets up and markets independently on his own account. In some cases we also started to design missing components on our side to make such a new solution even possible and easier to realize.
To understand the mindset behind, please also check out these videos where Marco is explaining his personal 'why', so you can get a deeper understanding of aponix' mission:
---
2. Product partner online in the US with his products / ECOSPROUT5 + 10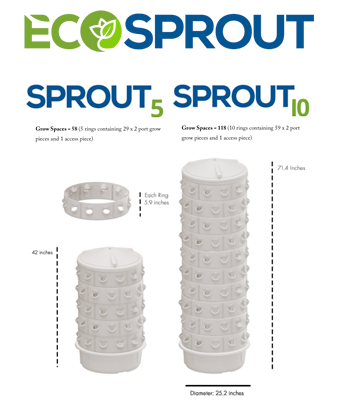 Yay! Here is the first product partner serving the US market with a ready-to-run end-user version of the vertical barrel:
Ecosprout launched its website in the USA improving access to aponix growing systems, components, and many other hydroponic-based products for growers in the Western Hemisphere. They are a Veteran owned company focused on selling quality growing components. For pre-ordering and contact information visit their site www.ecosprout.biz.
There are other vertical barrel applications in the pipeline coming up with interesting and specialized solutions in different areas of applications and territories. Stay tuned!
---
3. New parts / Highlights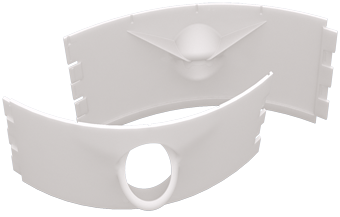 a.) With the one net pot piece, the closed spacer and the piece with two net pot inserts you will have more flexibility with regard to plant spacing. You will even be able to configure for your individual plant shape apart form the square spacing between the 2 inch cups on your vertical barrels. We also added some general improvements to the new one net pot piece like sharper 'teeth' behind the pot to prevent the liquid from running around the cup. We also changed the angle of the pot and added a 4th position for stacking the ring segments.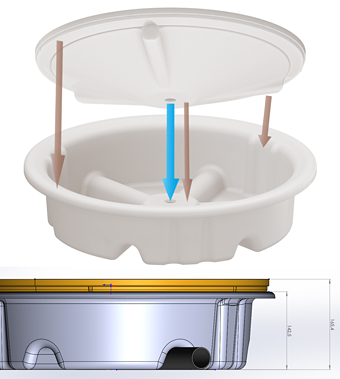 b.) As a result of a very fruitful product partner co-operation, where we needed to solve a long standing ToDo of being able to rotate the vertical barrel units, we designed a new part against the requirements of the product partner and at the same time added also another important feature: Being able to use standard 40mm PVC pipes coming from different directions to build drainage underneath the units and fix that pipe at the same time by putting the vertical barrel directly onto this pipe. The result is our new 'lid-base'. It uses one of our existing lids turned upside-down as base for the barrel and at the same time holds this lid in place and connects it with the draining pipe underneath. If you were using our initial multi-barrel base you might want to take a closer look at this new component. It also solved the problem of needing an oversized package on smaller shipments that increased shipping cost. Using the lid and a lid-base as new multi-barrel base helps to decrease the space required around a vertical barrel unit down to the actual diameter of 60cm and at the same time have a flat area as contact surface to the floor or a rotation mechanism being just a flat table with that diameter.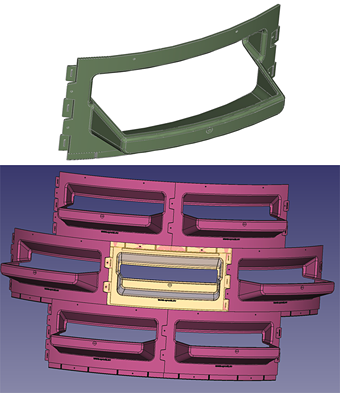 c.) A cooperation with our local city council led us to venture into the area of plantable urban furniture translating the aponix vertical barrel modularity to a bigger special version. This was tested at an event in 2019 (Link: Lebendiger Neckar Heidelberg/DE), where the city of Heidelberg used our substrate based white version to add a few functions building their own prototype. The material for this new public use case also needed to be a different one compared to the 'white' greenhouse version. The highest priority here was uv-resistance, hardness and durability. The major properties of a City XL version were prioritized differently: We needed flame protection (UL94, DIN75200/FMVSS 302), ability to break without sharp edges and having a food-grade material at the same time. So we chose a custom mixed PA here.
The pieces are available in series now: Currently we are looking for pilot projects using the first City XL piece to integrate it into plantable and movable urban furniture! If you happen to be a decision maker in a city council or responsible for plants in the urban area we are looking for the next series of pilots with our novel plantable urban furniture. Please reach out for us!
d.) It looks like a green Mickey Mouse, our new Netafim micro-nozzle adapter that is clipped on to our top lid. It holds a Netafim drip stop component to which a Netafim VibroNet or a SpinNet sprayer (and others) can be attached. This enables the use of Netafim's 7/4mm micro tubing equipment for pressure for irrigation and provides simple to install irrigation at a flow rate of 40 or 70l/h.
Download our updated catalog with all available parts: https://www.aponix.eu/wp-content/uploads/2015/05/aponix_catalogue_202006-min.pdf
---
4. Testing and planning for a more advanced 'Version 3'
As we are improving constantly we also opened a hidden experimental side development project for a 'Version 3' of the vertical barrel where we plan to
a) integrate all important collected improvements and also
b) add some exciting new features and capabilities.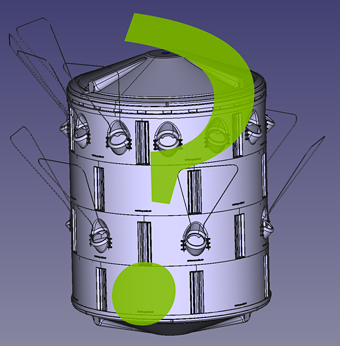 Thanks to some close relationships into Dutch horticulture and good friends from there who support our product development with expertise, contacts and insights, we started to finally go this path collecting the missing ideas for standards in lighting, ventilation, processes, added robustness etc. From the beginning the aponix components were meant to be usable in commercial and also larger professional setups.
The requirements and robustness needed here are from another professional category compared to providing another 'grow tower' serving mainly end-users, even if they are so exited to grow their first plants and use multiple units in a small greenhouse.
We can not show closeup details here, since we have understood that the sector is being monitored and despite existing IP, copies are coming fast and we want the copy cats to be at least one season behind with their crap so we can come out with version 3.1 when they still try to figure out what's inside version 3.
---
5. Increased capacity and 'projects'
Since demand for our components has increased significantly since the beginning 2020 another area apart from a) shipping direct to testers and skilled first time users and b) the product partner co-operations we re-organized and scaled the way we manufacture materials to make sure we have the parts required available and shippable in a timely manner. Larger shipments/orders are organized in timed 'projects' that are stored and collected separately until pickup is due. We do this in a close relation with our manufacturer who provides the infrastructure including forklifts and storage and a yard to load trucks and prepare palettes for international shipments.

We also installed an outline contract with minimum amounts of available pieces per component in storage, that trigger automatic re-orders directly into the production. That way we managed to scale from individual packages, to palettes, to containers/truck loads. We also improved the way we do CAD designs much closer to the actual production tooling, with experienced and efficient external engineering know-how, increasing the speed and the quality of adding new components or designing new components for our product partners – made in Germany.
---
6. DLG Award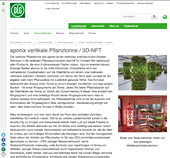 The aponix vertical barrel is very proud to be amongst the 8 winners of the 2019/2020 DLG / Deutsche Rentenbank award for 'Urban Farming'. Prize money is already re-invested in new pieces.
---
7. Looking for co-exhibiting at larger horticulture tradeshows
Somehow aponix is not regarded as a start-up anymore by exhibition organizers. But without using any external funding so far, we are practically still in startup-mode. That has a painful effect on the ability to pay the prices currently quoted for exhibition space in the fantastic shows we appeared regularly during the last years.

So we are calling out to our horticulture friends: If you see the possibility and synergy of co-exhibiting with us using one or more vertical barrels at your booth, please get in contact with us! We did this in the past and it was fun and worked great both ways. The vertical barrels shown could of course be used to demonstrate products/solutions from the main exhibitor in the space.
---
8. Please add comments/images on your experience with our components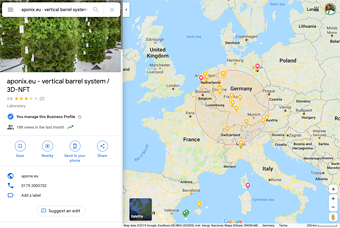 The experience and knowledge that has accumulated around our existing users over the past 2 years is a powerful asset that might help and inspire others. If you like to support aponix and the other aponix users on their mission, please engage and share your experience using our components. Here are some channels you can do that:
Thank you!
---
9. What is an aponix vertical barrel / 3D-NFT
If you are new to the aponix vertical barrel, here is a quick summary of why aponix components exist:
The mission of aponix is to make hyperlocal edible plant production easy, productive and robust – for commercial operations running urban farms and for the advanced prosumer or hobby enthusiast. The aponix parts can be used to set up grow spaces for both types of applications in very flexible and modular ways.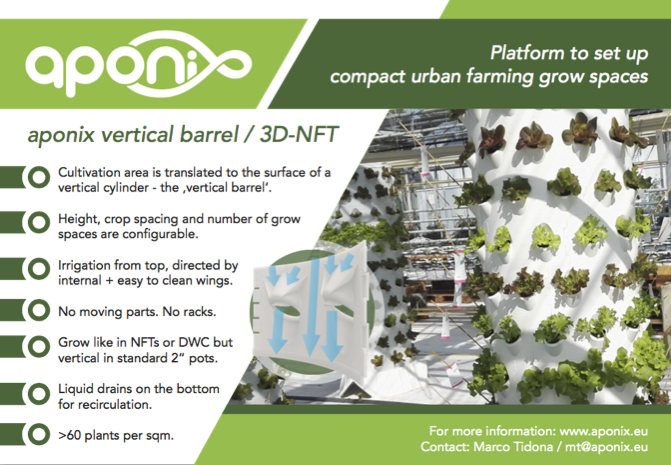 The idea is to pose an alternative to building racks or go super high with thinner tower solutions and still be able to use natural sunlight and reach plants with standard mechanical equipment like rail trolleys instead of using a scissor lift.
Remember: Height = number of grow spaces = always variable.
Plant spacing and plant shape = configurable.
No fixed elements (tables or racks) needed.
Highest quality materials possible.
Exciting product partnership scheme.
Check out these aspects: Integration Examples | Irrigation Options | Key Features and Metrics | FAQ | Product Partners