[Link to the original newsletter]
Summary:
It has been a while since our last newsletter. Thanks for your patience! This is the minimal summary of what aponix has done in 2018.
Our focus has been to improve our parts and extend the production of materials and our direct sales including logistics and exporting capabilities. We are also coming closer to finding and binding dedicated distribution partners that can add their services and expertise to sell our products to their customers. And of course we have been busy showing and promoting the aponix vertical barrel at tradeshows and events.
---
Get the video version of the update, learn about the aponix 'why' and see some interesting barrel versions in Marco's talk at this year's Seeds&Chips conference in Milan. Duration: 15min, starting at 38:17 of the overall session on 'Controlled Environments, Future of Indoor & Vertical Farming'.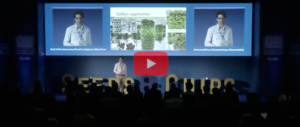 ---
System and content updates:
We rearranged our page, explaining the irrigation options more clearly: There are quite a few options to ensure irrigation of the barrels for soilless use – multiple barrel or standalone operations. Once the liquid attaches to the inside surface gravity will do the rest for you. Explained in more detail on this new page.
Liquid flowing, vertical drip.
This is a reverse compatible change to our major ring segment piece holding two net pots. If there was too much liquid running on the inside, some of it could have been pushed to the outside in the past. We closed these gaps now by changing our series tooling.
The new manual page now shows the basic assembly and disassembly in more detail with the current building blocks. We have also updated the manuals.
---
Exporting, material prices and distribution:
Since Feb 2018 aponix can declare 'preferential goods' to make use of international free trade agreements between the European Union and other countries when exporting materials outside the EU. This enables buyers to save the standard import taxes on consignments from Germany. [more]
We had to remove the prices from our website this year. Interest is coming from end users, resellers and potential project partners globally and the published pricing details created too much confusion. For price details please use our shop pages to collect a parts list that you are interested in and request an individual quote including shipping on the checkout.
In the meantime we have set up a more consistent pricing strategy and a more reliable production with a higher stock. We also decided that a one-time set of testing materials up to 4 barrel setups can be shipped for the reseller price to businesses direct from aponix Germany. On average the cost for one grow space is around 4 and 6EURs (depending on the setup), which is well below any other solution out there especially if you also consider the quality and usability of our solution.
We also changed the packaging for shipping. The standalone version with the closed base is now being shipped in a more compact 70x70x45cm box, which reduced shipping cost and made it possible to ship with standard carriers.
Aponix is looking for resellers and distribution partners. If you are interested to resell the aponix vertical barrel please check this page. There is still plenty of space left on our reseller map. [more]
---
Impressions, testing and media:
Images from our vertical barrels on the open doors day at Heidelberg's LVG with focus on urban farming on 1st July 2018 showing the substrate based version and the standalone setup:
Images from a growing test without plastic net pots and rockwool just in foldable jute sheets from HollandPlug growing lettuce, mustard greens and basil in a small standalone vertical barrel setup on a terrace. There are partnering research facilities working on alternative net pot-substrate replacements too.
Kevin from Epic Gardening testing and reviewing a small setup of our vertical standalone barrel – 'Vertical Hydroponics: Awesome Modular Barrel System!', 17min. Really cool to watch him explain the steps you need to take to set up and run one of our systems.
After visiting Kevin's place one of our favorite gardening youtubers John Kohler from growingyourgreens.com also did a short review of the system vertical barrel. The video covers the whole tour, the aponix section starts at 18:22.
---
Some impressions from this year's shows and events. It has been the most active year so far:
Past trade shows with presence of aponix this year:
Upcoming:
Past events and media presence can also be found in our news section and on our Facebook page.
---
The mission of aponix is to make hyperlocal edible plant production easy, productive and robust – for commercial operations running urban farms and for the advanced prosumer or hobby enthusiast. The aponix parts can be used to set up grow spaces for both types of applications in very flexible and modular ways.
Remember: Height = number of grow spaces = always variable.
No fixed elements (tables or racks) needed.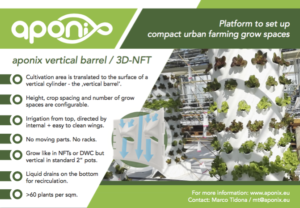 ---