Product Description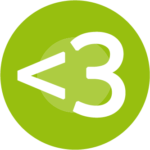 The 'Version 3' of the ring segment piece incorporates all the collected improvements and new features from the last 3 years of active use of the V2 parts. Thanks for all the feedback, patience and suggestions from our active and pragmatic users around the world. With your help we now designed the Version 3 or V3.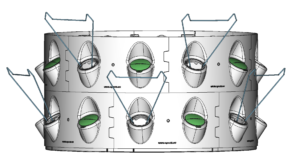 As with all the existing parts from V2 the major principles stay the same: Each ring segment or level is assembled using 6 of these 1/6th parts that are stacked on top of each other into one or more vertical barrel units. Each V3 piece comes with two standard 2-inch net pot inserts which provide the ideal plant distance for small lettuce varieties, herbs and strawberries. For more details on the planting distance using different settings see the Metrics / Features Page.
Feature/change list:
Important: All larger pieces like lids, the waterbuffer and the bases are backward compatible! It is just not possible to mix V3 and V2 ring segment pieces within the same ring segment. So you can still use all your existing components after V3 is available.
The connection mechanism had a major makeover compared to the one we are using in V2 pieces. From the orthogonal lines we moved to hexagonal to gain more stability, robustness and avoid horizontal lines in the whole design.
Many air traps and guides have been added to have liquid being moved as expected by gravity for proper circulation instead of pushing/jumping (=leaking) occasionally to the outside. Overall, on the new inside of V3 we now take as much control over where the liquid should _not_ flow as we already took for where the liquid should actually be flowing and be evenly distributed on the inside – regardless what flow rate and/or irrigation method you are applying.
The set points to stack ring segments onto each other have been reduced from 4 to 2 and the tab elements have been switched upside down. There is a stacking position for a '12 grow spaces per level'  and a '6 grow spaces per level' setup. You can use the new (backwards compatible) grow space cover to cover the unused grow spaces on both to create any other grow space and position setup.
The reusable plug pot with the optional metal trellis insert can be used to grow fruiting or larger crops for V2 and V3 parts without single use plastic net pots involved.
Stacking the ring segments will create an even more stable and robust vertical cylinder structure to go higher and add more grow spaces. This was also an improvement for the coming automation and autonomous production setups.
Since we are using a very high quality material (ASA) from the beginning, that is perfectly straight forward and simple to upcycle after its end of life, we added a note inside of every part on how to handle disposal properly and keep this valuable raw material inside of the techno-sphere material loop.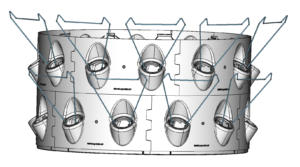 Material: Durable ASA
Color: Papyrus White