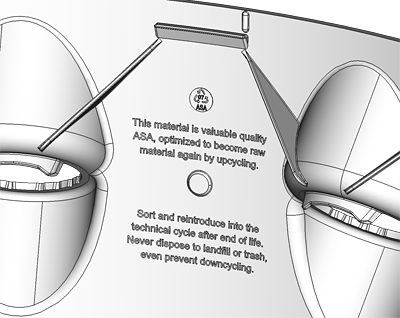 The aponix vertical barrel equipment is very different than the usual tower solutions! They have been designed to be very robust and actually usable in the day-to-day processes and operations of a professional urban micro farm. Users clean growing equipment after every grow cycle. There are certain processes that are repeated over and over again up to 12 or even 20 times a year after harvesting from your growing equipment. With the aponix vertical barrel you harvest, unstack ring segments, power-wash, re-stack and replant, no small parts/screws, dead corners, screws or anything like that. You do not even disassemble the single parts – you clean stacks of ring segments all at once. It is engineered to withstand at least 5 years of year round production and rough handling. Aponix has put a serious amount of effort into its design regarding many different dimensions of the product to make it as simple and robust as possible.
This is a collection of bullets to think about when you consider buying a vertical cultivation system:
Operations:
The aponix barrels do not come with independent single pumps or reservoirs per unit. This is nice and convenient if you intend to run a few of them and don't want to get involved into actually thinking about efficient production processes also including cleaning, storing, washing areas etc to set up a fully fledged urban micro farm. Having to maintain many small pumps and reservoirs and care for proper cleaning of every part becomes a maintenance nightmare if you would like to run hundreds or many thousands of grow spaces and maintain a plannable and reliable production. At best you engage a professional turn-key facility planning expert to help you set things up properly. We can also advise in this process or recommend specialized partners. This is very different if you talk to a multi-level-marketing sales person targeting hobby users and beginners and you are looking for detailed technical answers about hydroponic setups.
The aponix vertical barrel is set up of basically 'one' simple lego-like part instead of many differently shaped non intuitive parts of different materials, that are tedious to assemble and clean. Again, if you have a few 'towers', that might be feasible. But running many of them, you will have to take care of all the small parts. It makes your operations unnecessarily complicated and wastes your time and resources. Take a look at youtube and check out assembly videos of the system you intend to buy, you get an idea this way if you would like to do all this assembling over and over again when you need to clean and sterilize that piece.
Once you have set up the barrel ring segments, that consist of six 1/6th-parts, the ring segments stay assembled during maintenance and cleaning procedures.
Cleaning process: One cycle includes harvest, unstack ring segments, power-wash, re-stack and replant. If you have seedlings ready on harvesting a barrel, you do not lose any time. Cleaning an aponix barrel if well organized takes 10min. You could also save the steps of unstacking a barrel by opening the top lid, leaving the barrel open on the top and clean the inside with a high pressure torch from the top and/or flushing the units. During this you obviously need to divert the drainage from your nutrient circulation into a simple bucket or sink.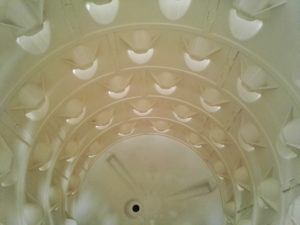 Inside wing structure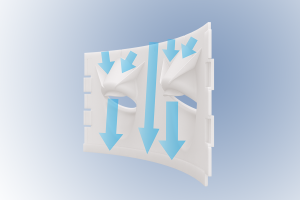 Water flow inside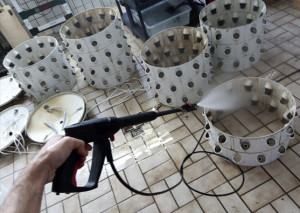 Power wash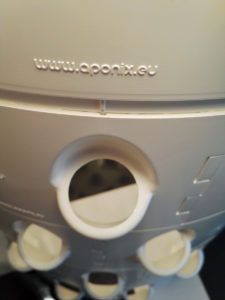 Perfect fit, easy stacking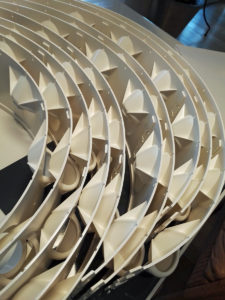 Compact storage
Materials:
Lids and bases are vacuum molded from 4mm and 6mm high quality PVC sheets resulting in very robust production equipment of one piece per purpose. One lid weighs 1kg and one standing base weighs 4.5kg. It is designed to be stackable, shippable and cleanable most efficiently. No dead corners. Very hard to break.
Even though PVC is widely used in freshwater pipes it should be seen critically. Cheap PVC contains too much dangerous lead that could be washed out. Check where the materials used in the components come from. The raw materials used for the aponix parts come from trustworthy German providers who have to comply to very strickt European rules (see: REACH directive / Verordnung (EG) Nr. 1907/2006 zur Registrierung, Bewertung, Zulassung und Beschränkung chemischer Stoffe). Raw material providers have confirmed their materials use tin and zinc instead of lead based stabilizers. We can provide more detailed information if necessary.
The 1/6-th parts are injection molded using the most UV resistant and durable thermoplastic – ASA (Acrylnitril-Styrol-Acrylat). Raw material also complies to the European REACH directive (see previous bullet about PVC). From the raw material provider: "ASA matches or exceeds the mechanical properties of standard ABS and has greater heat resistance and exceptional UV stability. It's especially suited for end-use parts in outdoor commercial and infrastructure applications."
The parts we deliver are each made from one material (no complex compounds), meaning it can be fully (re-)cycled into new raw materials after its end of life! We actually take all our uses materials back (provided it has been cleaned/washed) for a small handling fee per kg. Please check the principle of the 'techno-sphere' and 'circular economy' on this article from the WEF.
If you like to have more information about our raw materials, please contact us.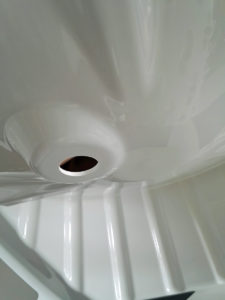 6mm PVC base, 4.5kg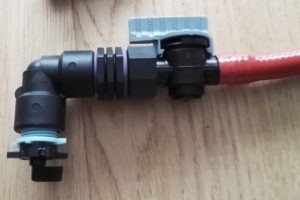 High quality irrigation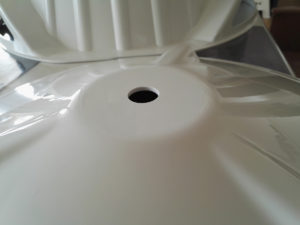 4mm PVC lid, solid 1kg
More details:
No special or custom made excessively priced net pots necessary. You can use any conical shaped standard net pots or plugs (like the Growcoon for example http://growcoon.nl) that is convenient for your production and that will not fall through the grow space into the barrel. The diameter on the top needs to be >5cm.
It is up to the grower what type of liquid fertilizer he wants to use – organic (aquaponics) or mineral (hydroponics). Since the aponix vertical barrels are just there to provide grow spaces in an efficient flexible vertical way.
In order to make the most of the circulating liquid, the inside of the aponix vertical barrels are equipped with a wing structure that directs the water evenly from one root area to another. Most simple towers that use dents to form the grow space just do the opposite, divert the liquid around your plant and make them somehow wet but in an uneven and insufficient way.
Vertical flexible height. There is no fixed height for the aponix vertical barrel. If you set up your cultivation setup with pressure connections (hose) to the closing top lids where the point of irrigation is located at some extra length, you could run barrels depending on conditions and production capacity with say, 8 ring segments and in high season use the same barrel space with 16 ring segments. There is no need to change anything between the two set-ups. You just need 8*6=46 more 1/6-th parts to stack more ring segments. In terms of pressure or any additional parts, you need nothing else to do that. Since the liquid exits on the bottom regardless of the barrel height, you could also move the barrel basis along your gravity gutter back to your reservoir, changing the distance between your barrels if necessary.
For the City-XL version of our vertical barrels we redesigned quite a few things from the 'white' substrate base version. The setup is much larger and made to be used in public spaces. It is much bigger, uses 9 instead of 6 ring segment elements to build a full level/ring segment. It is much heavier (400g a piece) and the materials is flammability tested (see UL94 test) and rated V-2 and food-safe at the same time. It can not break with sharp edges and the elements can be combined into one solid structure using rivets or screws.
You can check out prices and available parts in our order section. Please always consider that parts are manufactured at the highest quality and are very robust pieces of equipment. When comparing prices with other systems, please take a cost per grow space perspective.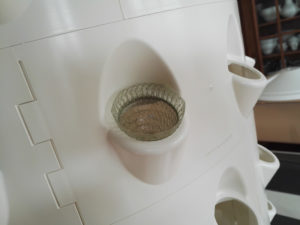 Growcoon, usable with peat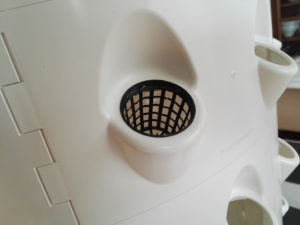 Ideal 5cm/2" net pot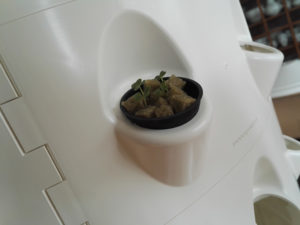 Larger net pot, works too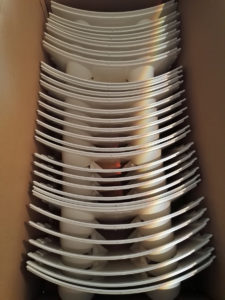 Do this with your NFTs (6/12m 20/40ft)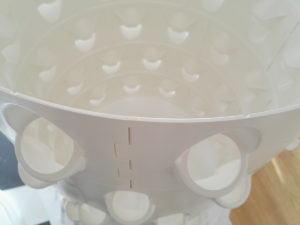 Perfect fit